I think we can all agree that we have been on a bit of a wild ride over the last 12 months in the real estate market. When the Fed decided to change its trajectory on interest rates in mid-2022, it created some chaos and confusion.
When big changes happen, it is a natural reaction to pause and wait for some certainty. This happened when the pandemic hit, too. People paused in March and April of 2020 and once May settled in, the market exploded. I have found that data, whether real-time data or historical trends, is incredibly helpful to create clarity.
I am committed to studying and sharing the data and I am also fortunate to have Matthew Gardner, Windermere's Chief Economist as a source to help guide this research. He speaks to the predictions that were made at the beginning of this year by several industry experts and breaks down their varied theories in this recent article. He also speaks to their renewed predictions that are now very much more aligned with one another and in agreement that prices are not headed in a downward spiral, but are in fact on the rise year-over-year.
Below is a chart I created with hyper-local data reflecting both King and Snohomish counties' median prices over the last 18 months in relationship to the rising interest rates. While we are off the peak of 2022 when rates were at 5%, we are only slightly lower and up quite significantly from the bottom when rates hit 7%. Proof that the market is sustaining the higher rates is that we have found ourselves back near the 7% this summer and prices have not faltered.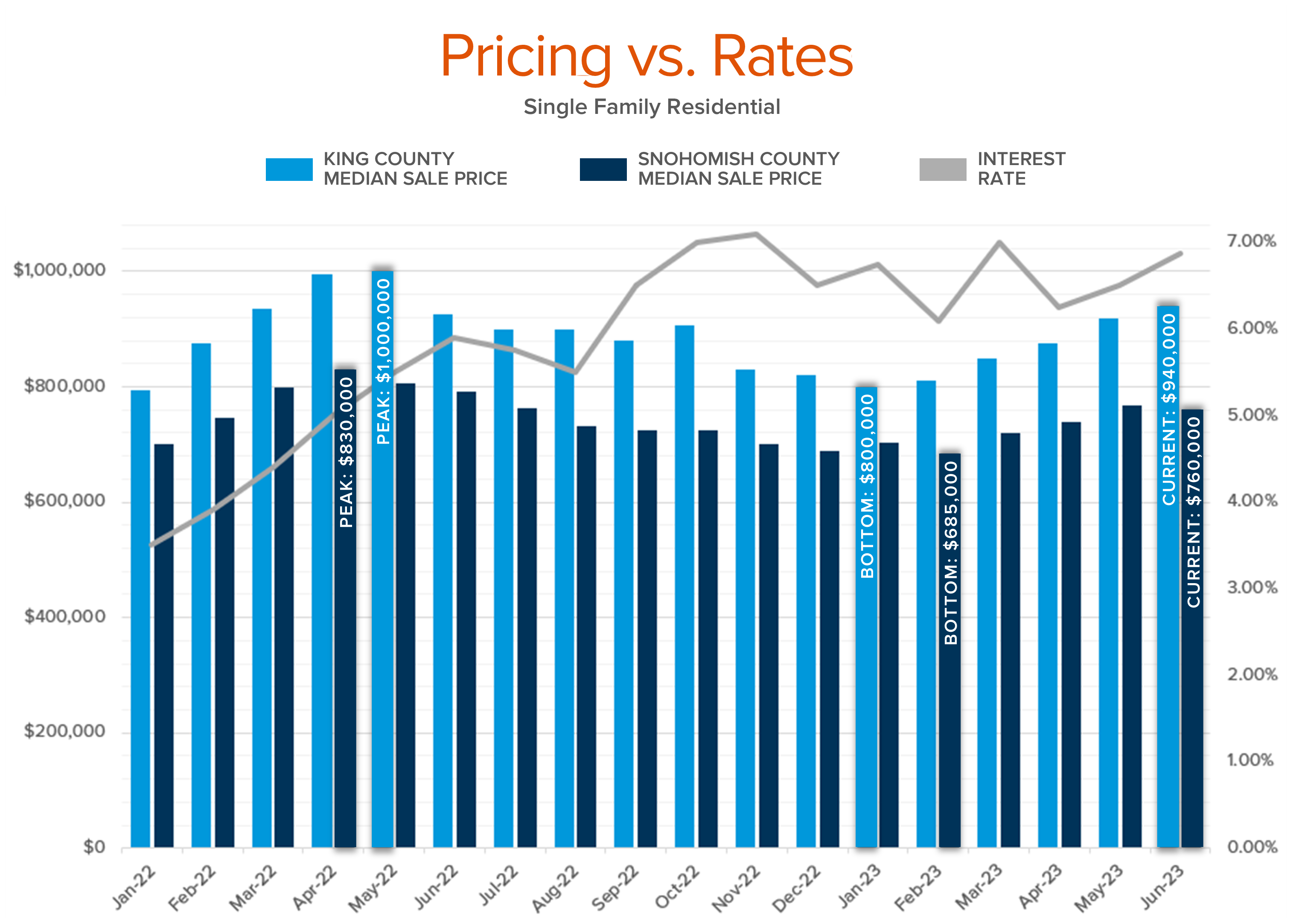 Would the market welcome a drop in the rate? Absolutely! When this happens, which is predicted, we will see buyer demand increase. What we will also see is additional inventory come to market as would-be home sellers will be more comfortable relinquishing their low rate to indulge their need or want for a different home. The high rates are keeping inventory low in a high-rate environment, which is supporting price stabilization and growth. Simply put, the sky is not falling.
The market continues to churn, we are not in a free fall, and prices are stable. If you've thought about a move, consider the data and please ask me to help you gain understanding. I can adjust the graph featured here with your local zip code or city to give you an even more thorough look at your investment.
Real estate moves are most often a result of life changes. If you have found yourself questioning whether your four walls currently meet your needs, let's talk! I will assess your goals and apply the data in an understandable way to help guide the best decision for you today or down the road.