Knowing the value of your home is helpful in many ways. It can help determine one's net worth, help decide if a home sale or purchase is a financially feasible move, determine the ability to get a loan – and it's just nice to know where your largest investment stands. Consumers have the option to access several websites such as Zillow® to search the AVM or Zestimate® on their property.
A Zestimate is an AVM (Automated Valuation Model). The product of an automated valuation technology comes from analysis of public record data and computer decision logic combined to provide a calculated estimate of a probable selling price of a residential property. An AVM generally uses a combination of two types of evaluation, a hedonic model and a repeat sales index. The results of each are weighted, analyzed and then reported as a final estimate of value based on a requested date.
Often when I am talking with potential sellers, their Zestimate (or other AVMs) come up in the overall conversation, and I understand why. This is information that is relatively easy to access and gives the seller a starting point on the value of their home. Where an AVM can become problematic is when a consumer thinks it's accurate. Even worse, when a consumer makes a major financial decision solely based on this information. According to Zillow, less than half of all Zestimates in the Seattle metro area are even within 5.4% of the actual value, and they only give themselves a 2-star (fair) rating on their accuracy. In fact, they publish an accuracy report that you can access here.
In August, the average home price in the Seattle Metro area was $824,000. With less than half of all Zestimates within 5% of the actual value, that is a beginning margin of error of $41,200! Further, they claim that 72.3% of their Zestimates are within 10% of the actual value, which is a marked difference – up to $82,400. AVMs are incomplete because the basis of their formula is tax records, which in my experience are often inaccurate. Also, and most importantly, an AVM does not take into consideration the condition of the home, the neighborhood and other environmental impacts such as school district, road noise and unsightly neighboring homes, to name a few.
An accurate accounting of the value of a home in today's market requires actually physically touring the home and the surrounding homes that compare, as well as considering current market conditions such as supply and demand and seasonality. An algorithm cannot accomplish this, but a real estate broker can.
So why does the Zestimate exist? Zillow is a publicly traded company (ZG) and their website is the vehicle to create profit. The Zestimate drives consumers to the website who are often dipping their toe in the pool to see what their home might be worth, or searching available homes for sale. When a consumer is searching on the website they are surrounded by real estate broker and mortgage broker ads on every page. These real estate brokers and mortgage brokers are paying for that advertising space, which is how Zillow makes its money and why there is a Zestimate. The Zestimate is not a public service, it is a widget to bring eyes to their advertising space which in turn, sells more ads.
Another important item to note is that Zillow does NOT have all available real estate inventory in the Greater Seattle area on their website. In May, they cut off access to manually input listings, leaving some real estate firms unable to get their listings on the site any longer. Some firms just plainly chose not to syndicate to them. It is estimated that Zillow has between 70%-80% of the total available inventory on their site. In an inventory-tight market like the one we are in now, it is important for consumers to understand that if Zillow is the only source they are searching with, they may be missing out. Brokerage firm websites, such as Windermere.com have a direct IDX feed from the Northwest Multiple Listing Service which refreshes every 15 minutes, insuring the accuracy and completeness of all listing data.
The best use of Zillow is to think of the site as one of the many tools in your real estate evaluation and search toolbox. Zillow provides a great starting point and contains a ton of information to whet your palate when embarking on a real estate endeavor. Nothing beats the evaluation and discernment of a knowledgeable and experienced real estate broker to help you determine accuracy, which will lead to the empowerment of clarity.
If you are curious about the value of your home in today's market, please contact me. I can provide an annual real estate review of all of your real estate holdings, and can even dive deep into a complete comparative market analysis if you would find that helpful. It is my goal to help keep my clients informed and empower strong decisions.
Zillow® and Zestimate® are trademarks of Zillow, Inc.
___________________________________
Equifax Data Breach
If you have a credit report, there's a good chance that you're one of the 143 million American consumers
whose sensitive personal information was exposed in the data breach at Equifax, one of the nation's three major credit agencies.
Here are the facts, according to Equifax. The breach lasted from mid-May through July. The hackers accessed names, social security numbers, birth dates, addresses and in some cases, driver's licenses numbers and even credit card numbers.
There are steps you can take to help protect your information from being misused. Visit Equifax's website, www.equifaxsecurity2017.com to find out if your information was exposed and set up protections. Click here to access the entire press release from the Federal Trade Commission that includes step by step instructions to help you navigate the website.
___________________________________
Nothing feels more like fall than pumpkin picking, hay rides and corn mazes. Get your latte in hand and head out to any one of these great, local farms to have some harvest fun and find that perfect jack-o-lantern to light up your porch.
___________________________________
Ray & Lynn Trzynka

Milari Olexa

Alyssa Irwin

Mike & Chris Russell

The Everetts
_______________________________
To these buyers that closed recently:

Gilbert & Patricia Holzmeyer

Jacob & Shannon Foran

Ann O'Connor

Mike & Chris Russell

Chris & Sarah Larson
_______________________________
Active Listings:
1820 NW 195th St, Shoreline 98177
2 Bedrooms/1.75 Baths, 1592 Sq Ft.
Listed at $589,950
16736 76th Ave W, Edmonds 98026
4 Bedrooms/3.25 Baths, 3808 Sq Ft.
Listed at $798,950
8809 Olympic View Dr, Edmonds 98026
4 Bedrooms/2.75 Baths, 3956 Sq Ft.
Listed at $1,289,950
Listings currently under contract:
Pending
7010 177th St SW, Edmonds 98026
4 Bedrooms/3 Baths, 2684 Sq Ft.
Listed at $635,000
Pending
23834 113th Place W, Woodway 98020
5 Bedrooms/2.5 Baths, 3000 Sq Ft.
Listed at $869,950
Pending
9222 183rd Place SW, Edmonds 98020
4 Bedrooms/2.5 Baths, 3084 Sq Ft.
Listed at $659,850
Pending
410 Dayton St, Edmonds 98020
Bed & Breakfast
Commercial listing & business opportunity
Listed at $750,000
Thank you for trusting me to help your friends and family!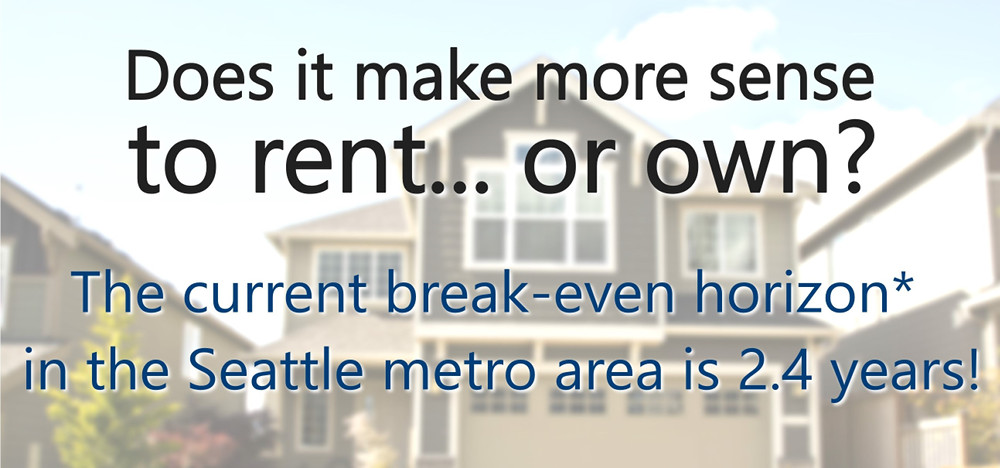 *The amount of time you need to own your home in order for owning to be a superior financial decision.
With Seattle's robust job market and high housing costs there has been a lot of talk lately about the cost of living in the Greater Seattle area. In fact, Seattle is now the 5th most expensive city to rent in the country according to a new study from Nested.com. The average monthly rental price for a one bedroom apartment in the city of Seattle is $1,790 according to Zumper.com, up 8.5% year-over-year; and a two bedroom is $2,470, up 6% year-over-year!
With rising rental rates, still historically low interest rates, and home prices on the rise, the advantage of buying versus renting has become clear for folks who have a down payment saved, good debt-to-income ratios and strong credit. Currently, the breakeven horizon (the amount of time you need to own your home in order for owning to be a superior financial decision vs. renting) in the Greater Seattle area is 2.4 years according to Zillow research. For every month thereafter your nest egg is building in value.
An additional study by Nested.com outlines the monthly rental costs for a single person or a family of four, as well as the yearly income required. In Seattle, it costs the average single person $1,288.76 a month to rent, which requires an annual income of $53,328.00. The average family of four costs $2,665.34 for monthly rent, and an annual income of $101,186.48. That is a lot of money one would be paying towards someone else's investment.
Your Bottom Line
There are several factors to consider that will lead you to make the best decision for your lifestyle and your financial bottom line. One of the biggest factors is interest rates! Currently, the rate for a 30-year fixed, conventional, conforming loan is hovering around 4.25%. That is amazingly and historically low, making the advantage of securing a mortgage huge. What is nice about having a mortgage is that the payment stays the same over the term of the loan. Rents can be increased at any time, and you are paying down someone else's asset, not your own.
The long-term benefits of owning are abundant, including the stability of not being asked to move. Owning gives the homeowner control over their overhead while getting to make their house their home.  These are important factors to consider for everyone, but especially younger folks who are enjoying the benefits of Seattle's attractive job market.
Drive to Affordability
Where folks are having to compromise most due to affordability is commute times, and settling in less urban neighborhoods. Worth pointing out is the average home price in South Snohomish County is 46% less than Seattle Metro – that is a huge savings! Some people, mainly millennials, have not been willing to give up living in the more core urban neighborhoods that have high walk scores and shorter commute times. That should trend toward a change as rents are rising fastest in those areas. The advantages of moving out a little further and securing a home will start people on the track of building long term wealth.
If you or anyone you know is currently renting and is considering a change, please let me know as I would be happy to get their questions answered to help them make an informed decision.