The recent news of Zillow's plan to shut down their iBuyer program due to a $328 million loss in the third quarter has heads spinning in the real estate world and on Wall Street. The decision to move away from the practice of purchasing and re-selling homes will result in a reduction of 25% of the company's workforce. 
"Fundamentally, we have been unable to predict the future pricing of homes to a level of accuracy that makes this a safe business to be in," states Zillow CEO Rich Barton.
This is a bold statement from a CEO who built their company on a computer algorithm that generates a home value called the "Zestimate".  A Zestimate is an AVM (Automated Valuation Model) that draws from public record data and computer decision logic to provide a calculated estimate of a probable selling price of a residential property.  An AVM generally uses a combination of two types of evaluation, a hedonic model and a repeat sales index.  The results of each are weighted, analyzed, and then reported as a final estimate of value based on a requested date.
Zillow's iBuyer program sought to find eager home sellers who wanted a quick, no-nonsense sale. Zillow would present a cash offer to the seller based on their algorithm and close on a mutually agreed-upon date.  After closing, Zillow would make some improvements and bring the property back to the market.  This is often labeled a "flip".  The problem was, Zillow overpaid for the majority of their purchases.  On average, the homes were re-sold for $80,800 less than their purchase price.
While an AVM can be an OK place to start, it can be consequential when a person relies on its accuracy. According to Zillow, 39% of all Zestimates in the Seattle metro area are not within 5% of the actual value. In fact, they publish an accuracy report that you can access here.
To illustrate, in October, the median home price in the Seattle Metro area was $850,000. With 39% of all Zestimates not within 5% of the actual value, that is a margin of error starting at $42,500! Further, they claim that 82% of their Zestimates are within 10% of the actual value, which is a marked difference – up to $85,000.
AVMS lack sophistication because the basis of the formula is tax records, which in my experience are often inaccurate. Also, and most importantly, an AVM calculation does not include market trends and nuances, inventory levels, the condition of the home, view, neighborhood, and other environmental impacts such as school district, road noise, and unsightly neighboring homes, to name a few. Realtors, on the other hand, do factor in the above considerations and then some. Thorough market research that includes touring the subject and neighboring properties, seeking info from other brokers about the terms of recent sales and overall experience helps to determine accurate market values.  Computers can't do this type of in-depth research, nor do they have the instinct to predict shifts in the market, but I do!
So why does the Zestimate exist? Zillow is a publicly traded company (ZG) and their website is the vehicle to create profit. The Zestimate drives consumers to the website who are often dipping their toes in the pool to see what their home might be worth or searching available homes for sale. When a consumer searches on Zillow's website they are surrounded by real estate broker and mortgage broker ads on every page. These real estate brokers and mortgage brokers pay for that advertising space, which is how Zillow makes its money. The Zestimate is not a public service, it is a widget to bring eyes to their advertising space which in turn, sells more ads to brokers looking for leads.
The moral of the story is this: Nothing beats the evaluation and discernment of a knowledgeable and experienced Realtor to help you determine the value of your home. I am happy to provide an in-depth CMA (Comparative Market Analysis) and Real Estate Review whenever you would like one and for whatever reason, even if you never plan on moving! Sometimes people need a valuation for their overall financial portfolio, sometimes they want to know the amount of equity in their house so they can draw on it for other investment property or recreational property purchases. Sometimes they're just curious and I'm happy to help! Reach out any time – coriwhitaker@windermere.com, call or text 206-795-4361.
Zillow® and Zestimate® are trademarks of Zillow, Inc.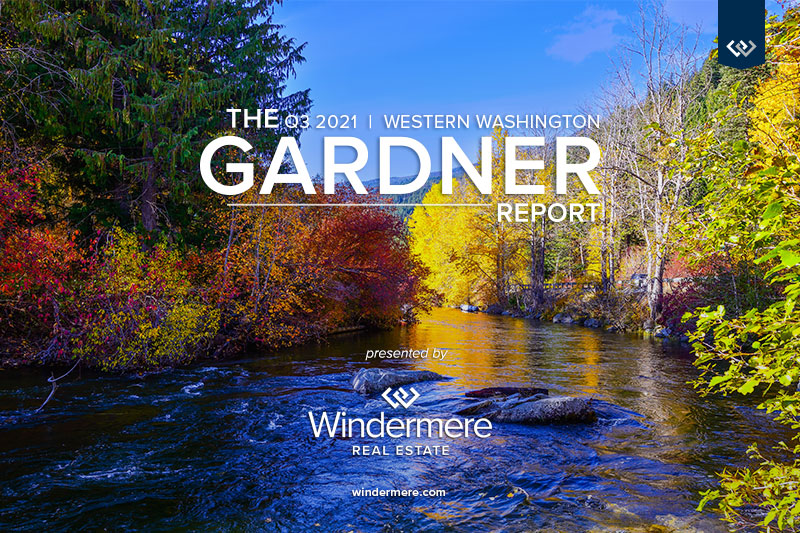 Matthew Gardner is the Chief Economist at Windermere and a sought-after expert on real estate, both locally and across the country. Every quarter, Matthew breaks down the real estate market by region and provides the Gardner Report; you can read this quarter's full report here.
If you have any questions or curiosity about the current real estate market that you would like to discuss, please reach out. Are you curious about the value of your home, are you contemplating a move, or considering a new purchase? I can help! It is always my goal to help empower my clients to make strong financial decisions and to help them understand how real estate can positively affect their lifestyle.